Saint Pierre, May 26th, very late at night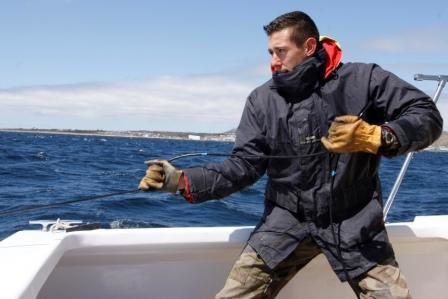 One day ahead of our planning, we have started the research this morning! The divers were super motivated, logistics OK, and the weather rather acceptable, although we had snow the night before. Water surface temperature is 3°C, but as it is very clear, we could see down to 25m deep. Our research zone covers high ground & rocks, so we used the Zephyr, rent by Mr Poulain, from St Pierre Yacht Club.

We did our first "runs", 1500m long on twice 80m wide, 11 times in a row, guided by a GPS linked to a recorder and a monitor, with a constant 3 kts speed, the sonar being dived between 5 and 10m deep. The pilot must pay a very careful attention, as the runs have to be totally straight and parallel.

These passes have been run in the South zone of "The Lost Child" under the "Sailors Island". The wind did not allow us to work near Terre Neuve to look for the Ravenel, our second mission.

We got plenty of echoes from the sonar. Stephane Celton, our decoding specialist, needs to spend the night analysing all of them, to select the most interesting ones.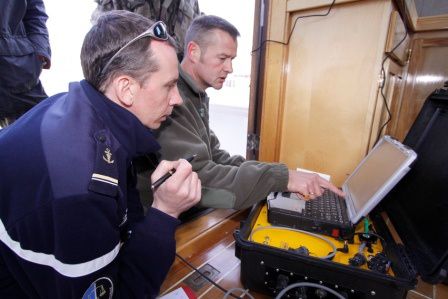 C'est lui qui sélectionnera les échos intéressants, Then, with GPS coordinates, we will send divers and cameras to see what these echors hide. There are a lot of echoes, a lot of wreckages, metal, canons, and maybe, in the middle of all this, the Lorraine Dietrich engine of l'Oiseau Blanc, her tanks, and her throttle?
In front of the thousands of wreckages, the power of the sea, one feels very little!
While the divers were working this morning, we had a meeting with Air Saint Pierre Pilots, to watch & analyse the kind of weather Nungesser & Coli could encounter. Our hypothesis seems valid: 30 m thick fog layer around the island like a scarf, our pilots could see the hills, but had to cross this fog to ditch.


photos : JC L'Espagnol.