3rd research campaign for l'Oiseau Blanc - new pictures.
Bernard is now in Saint Peter, here is some news.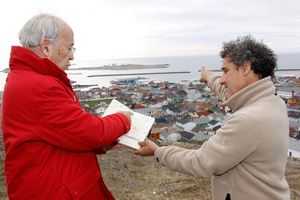 Pierre Lenormand, Chief of logistics, and I, have 3 objectives:
Consult the Parish 1927 and 28 information bulletins to find new evidences, as the Governor's archives have partially been destroyed by several fires.

Ask questions to the grandsons of 1927's witnesses, identified thanks to the archives.

Have a look in the local "Museum of the Arch", in the rooms not open to the public, which may very well hide treasures.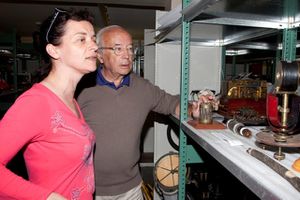 Today, July 27th, we are expecting the venue of Frederic Mitterrand, French Minister of Culture, to whom we will present our research, and the proof that L'Oiseau Blanc has crossed the Atlantic in May 1927, a fact which modifies the History of Avuiation. We will also propose the idea to name Saint Peter's airport "Nungesser & Coli".
We also want to publish a book about Saint Peter and the islands. It has been lacking until now, so it is a necessary cultural action!
We need of course patience and tenacity to continue these investigations. We are also thinking of using Canadian and/or US material, to avoid transport costs. We make daily progress, also thanks to the kindness and trust of the people of Saint Peter, thanks a lot to all of you!
Photos JC Lespagnol.
New pictures in album "Search" - campaign 2011".