A meeting with the French Minister of Culture!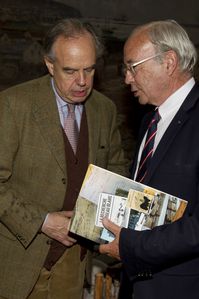 Just before leaving Saint Pierre, we have found a document, published in the Parish bulletin in May-June 1927, which mentions that the noise of an aircraft engine might have been heard at Swift Current, "in the mountain", at 13 km West of Saint Pierre, near the Hermitage Bay. New evidence!
We find new clues every day, and we were really happy that Frederic Mitterrand, French Minister of Culture, came to meet us in Saint Pierre during his official visit on July 27th. He insisted on the importance of our research for the islands, and asked many precisions about our works. Every one told him about our seriousness and focus.