The learnings of June 2012 campaign
We are leaving Saint Pierre with great faith in the future: we have made tremendous progress.
First campaign in 2009: we had the help of the GPDA (French Navy) divers and a sonar. In 10 days of work, we have started to understand the field. If we had to give us a mark, it would be 5/20 for the terrain efficiency, and 10/20 for our work on the archives.

Second campaign in 2010: we have worked with rather simple sonar and magnetometer for 10 days. we deserve 7/20 for the terrain and 14/20 for the archive work, due to our exceptional discoveries Washington, Aix en Provence and Nantes.

Third campaign in 2011 with the Suroit. We are still waiting for the results.
Fourth campaign in 2012 with SAFRAN Group on board, which allowed us to hire a much more efficient equipment, and a very qualified team. Our terrain mark: 14/20. It is not impossible that, next fall, we continue the research for l Oiseau Blanc and the Ravenel.
We have new important leads in the American archives, on which we will start the work as early as July, and from September to December.
This means that we are already preparing 2013 with great faith, because, for the first time, we have circled the research zones with great precision, our team is very professional and we work together very well. We also understand better the techniques that need to be used, and we appreciate the help and trust of the inhabitants of Saint Pierre, who really believe in us, and whom we sincerely thank.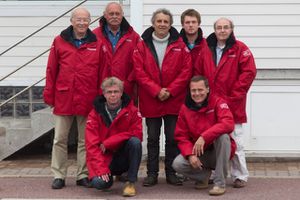 Stay tuned, you will read from us very soon!
Bernard Decré and team.