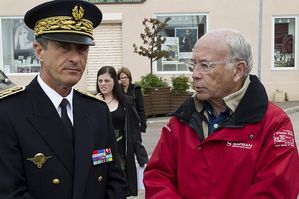 We arrived in the French territory of Saint Pierre & Miquelon, South of Newfoundland, on June 10th and installed all our new material on our boat, the "Zephyr". We started with the search for the "Ravenel", a fishing boat disappered in 1962. We made a promise to Saint Pierre's people to look not only for l'Oiseau Blanc, but also for the Ravenel.
We have now started to look for L'Oiseau Blanc, and after new information, we decided to modify the initial plan.
Our first intention was to look around "Savoyard", South West of Saint Pierre. This was after reading a document in the archives of Aix En Provence, saying that the coast guards had put there a red buoy to signal the place of the wreck. However, it is impossible to confirm that this buoy can have been seen that far West. Furthermore, a precise text locating precisely the fisherman Pierre Le Chevalier - who heard the pilots shouth after ditching - and the better definition given by our new equipment drive us to define a research zone in Grappin's East-South-East. We have therefore started to work there.

While our crew works on calm waters, I interview old people. Today, a 95 years old gentleman, in perfect shape and very interested in our research left me a message to give me more information. Mr Ozon wants to see me because, as a child, he saw Charles Lindbergh fly over Saint Pierre. These testimonies are precious, they confirm that the French aviators have been see flying over the island.

We still have 10 days of work ahead. The see is calm, although it rains a little, but we believe we will succeed!
Stay tuned!
Bernard Decre
Photo : Patrice Latron, Saint Pierre's Prefect, with Bernard Decré. copyright : Jean-Christophe l'Espagnol / Max'Image